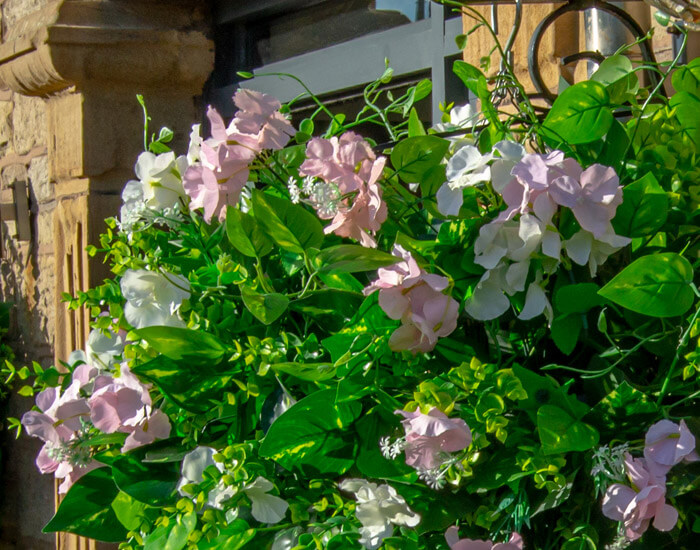 Outdoor artificial flowers
What better way to add some flair to your outdoor space than with a stunning floral display that will retain its freshness for its entire lifespan? With our high range of high quality outdoor artificial flowers, you'll be able to spruce up any outdoor space with a stunning array of options designed to stay vibrant regardless of weather – and without lengthy maintenance!
You'll be able to create a warm, welcoming outdoor space with our dynamic selection of outdoor artificial flowers and plants in no time!
What types of outdoor artificial flowers are there?
At Artificial Hanging Baskets UK, we use only the best synthetic plants available, which are individually chosen by our incredibly skilled team to ensure an exceptional level of quality; we utilise high-quality silk flowers and artificial plants to create our unique handmade displays, so you can be confident that when you opt for our arrangements, you're getting the best.
Due to this exceptionally high-quality sourcing, we're able to create a huge range of displays featuring a strong variety of flowers that aren't reliant on the season – this means that if you're needing a specific colourway or to have an arrangement created for a specific seasonal event, we'll likely be able to assist you, without the limitations of 'live arrangements'.
Whilst there are a significant variety of outdoor artificial flowers available on the market, you can be sure that in working with our team, you'll be granted access to the best quality and range of blooms available, to suit your needs.
Speak with the team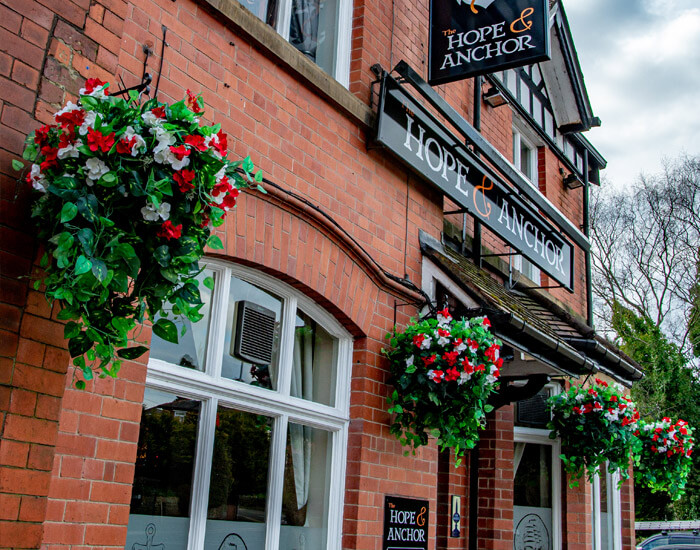 What are the benefits of outdoor artificial flowers?
There are a variety of reasons that our clients choose to use artificial flowers in their outdoor displays, as opposed to more 'traditional' live arrangements, with the foremost reason being that artificial flowers and synthetic plants offer a much more low-maintenance solution for your outdoor space. Whilst our seasonal displays look just as good as the real thing, they don't require watering or de-weeding, and won't wilt whenever there's some unexpected weather, so they're a far more reliable solution than live alternatives.
Aside from this, the second most notable benefit of opting for artificial flowers for your outdoor space is in the ease with which they can be refreshed. Due to the full service we offer for all our floral-based products, your display will be updated on a 10 week rotation, with the possibility to update colours or styles as per your needs; this has the added bonus of keeping all of your arrangements looking fresh and well cared for.
Finally, there's one additional benefit you may well be very grateful for, particularly if you own a premise that sees a considerable amount of consumer footfall; potential customers who suffer from hayfever won't be impacted by your displays! If you own a hospitality-based business and require floral arrangements for your outdoor premises, we don't need to tell you what a game-changer this can be!
Frequently Asked Questions
Which locations are you able to provide outdoor artificial flowers for?
At Artificial Hanging Baskets UK, we're proud to be able to offer services to a range of businesses of varying sizes across the North of England, as well as being able to facilitate suppliers for various other locations if we can't personally maintain your display due to geographical distance.
If you'd like to read more about which areas we are able to provide a fully serviced outdoor artificial flower display for, head over to our 'Areas we Cover' page for more details, and means to get in touch.
Are flowers the only option when it comes to outdoor displays?
Not at all! As professionals with over 20 years' experience within this industry, we're able to offer you a fully comprehensive range of options when it comes to your business; whether you're interested in our fully serviced artificial hanging baskets, would like an ivy or tree display, or are considering one of our stunning window boxes, there are lots of options for both indoor and outdoor displays that will truly enhance your space, in as cost-effective and low maintenance way as possible.
My business is located in an area with extreme weather conditions, can I still enjoy outdoor artificial flowers for my premises?
Luckily, if you're in an area which often experiences adverse weather conditions, we're still able to assist you with beautiful seasonal displays that suit your business' needs! In cases such as these, we're able to offer synthetic plants which have been coated in a layer of resin, to make them more durable whilst still maintaining their vibrance!